Enlightened Spirituality and Tools For Spiritual Development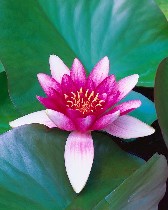 "If you want to change the world, you must first change yourself"
Throughout this site, we have referred to the idea of oneness and the interconnectedness of life, and how organic living is a way to reflect an awareness of this in our everyday lives.
If we really want to create a sustainable and peaceful world, it isn't enough to just change the way we eat, the products we use, our environmental policies, or even the infrastructure and economics of our society. It may be necessary to do all these things, but in order to effect real change in the world, a more enlightened spirituality of individual transformation needs to take place.
Spiritual development on a personal level leads to an awareness of what is necessary and what actions we need to take in order to create and manifest the change we seek and the kind of world we truly want to live in. It also reduces the chances that we will continue to act foolishly!
Enlightened spirituality is not simply a way of psychologically reprogramming the mind. Real transformation takes place on a level that reaches far beyond the mind.
As spiritual development and transformation happens on an individual level, this more perceptive awareness of what is necessary can result in a "shift in action". Gradually, we will find that we come to make different choices in our lives and alter our very actions and behavior. With a more enlightened spirituality, the choices we make and the actions we take in the world can be a part of the overall solution to create a more enlightened society. Ultimately, if we want to change the world, we must first change from within.
In this section, you will find personal growth tools and resources to help you pursue your own spiritual path and assist you on your journey of spiritual development and self-transformation.
---
What is Yoga? Many popular misconceptions about yoga exist in the west. Click here to learn about this ancient science of self transformation.


---
Isha Yoga is a unique and powerful practice which has been designed to bring each practitioner into a state of wholeness and well-being. Learn more here.

---
Sadhguru Jaggi Vasudev: Find out about India's most sought after yogi and mystic here.

---
Oneness is both an idea and an experience. Click here to learn more about oneness, to share your personal stories and experiences of oneness, and to find resources for compassionate action and humanitarian outreach.
---
---
Click here to return from Enlightened Spirituality to Green-Organic-World.com's Home Page.